2018 Annual Benefit Luncheon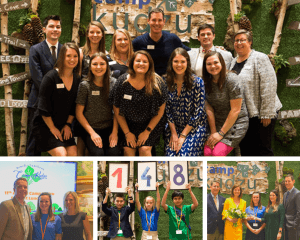 We had an amazing and emotional day at the 11th annual Camp Kudzu Benefit luncheon. It is my favorite day of the year because it is Camp for the parents! We get to see our friends, watch Camp Kudzu videos, hear camper testimonials (like the very moving one from 14-year-old camper, Lola), and most importantly: raise money to send kids to Camp!
We had great support from our friends, parents, former campers, founders, doctors, and many important Atlanta companies. The silent auction was fun and every penny from every item sold goes to Camp Kudzu. But the most exciting part of the day was the Fund-a-Camper live auction, where the attendees donated $148,000 to send kids to camp. I teared up on the way home, thinking of how special Camp Kudzu is to my family and how much I appreciate the love and commitment of our staff, board, advisory council, volunteers and friends.
I am thrilled that we can continue our outreach and make our Camp Kudzu programs available to even more newly diagnosed campers and vulnerable families over the next year. If you couldn't join the fun but would like to support us, please donate at www.campkudzu.org or contact us to get involved. Without you, we cannot carry out our important missing of educating, empowering and inspiring kids, teens and their families living with type one diabetes. Until there's a cure, there's camp!