New Faces, Strong Support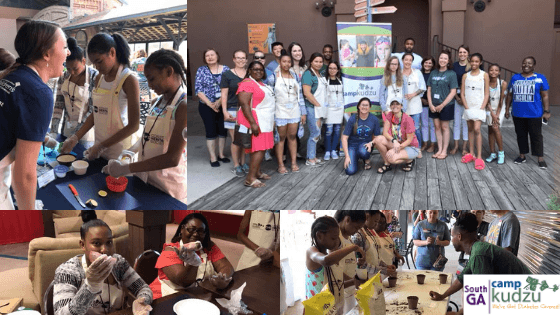 We completed our first culinary program here in South GA called Food for Thought on May 18th. It was an amazing day to see the participants really digging in and committing to learning, re-learning and expanding their comfort zone around food.
The program started in the morning with a great team building activity about how all of us, participants and community organizations, are a unit. Supporting each other every "step" we take of the everyday challenges and successes of living with type 1 diabetes (T1D).
The morning was kicked off our first activities with the USDA's My Plate Game Show where children competed against their parents with fun facts about how our meal plates should look and how we should be incorporating all the food groups for a healthy diet. No surprise the children took the win over their parents!
Participants then moved on to work with some everyday food as we practiced accurately measuring serving sizes and reviewed how to read food labels correctly.
Our mid-day activities included making hummus from scratch with the Childlife Specialist from the Dwayne and Cynthia Willets Children's Hospital of Savannah. Everyone had a part in whipping up this delicious dip using the Charlie Cart, a mobile kitchen! Next, we took a shot at making three fun low carb snack recipes that included fruit and cheese kabobs, pickle cream cheese roll-ups and cucumber crackers. Participants were delightfully surprised at the new tastes they created and got to take home.
We ended the day with the Forsyth Farmers Market and Everyday Diabetes Center leading our last round of activities. Participants learned about micro greens and the importance of them in our diets. They as well got to plant their own micro green to take home and care for. Everyday Diabetes Center rounded off the day with activities around eating out successfully. How to navigate menus, how to use tools such as phone apps to help us be more accurate on dining options and understand this is the "life" part of diabetes. Everyone should enjoy the fun of eating in a restaurant.
Our day finished up with big smiles, hugs and better confidence in managing the everyday numbers around our food choices.
The number of community members who came out to volunteer their time to support the families was inspiring.
An enormous thank you to: Memorial Health, Dwayne and Cynthia Willet Children's Hospital of Savannah, Everyday Diabetes Center, Forsyth Farmers Market, and Savannah Tech and all the volunteers who showed up to make this day a success!
We are blown away at the community interest to make these programs empowering and inspiring for our children living with T1D in South GA and we are excited to see all the future opportunities as we expand our reach locally.
Contributed by:
Cyndi Satlow
Community Outreach Coordinator, Savannah 
What's next in South GA?
+July 13th- Savannah Bananas vs. Macon Bacon home game.
+August 24th- Hang 10! Surfing program on Tybee Island, GA.
Registration opens soon!
Learn more here!
Want to get involved locally in the South GA area?
Contact: Cyndi Satlow the Community Outreach Coordinator at
(912) 244- 4101 or csatlow@campkudzu.org