Staying Afloat Amongst the Holiday Madness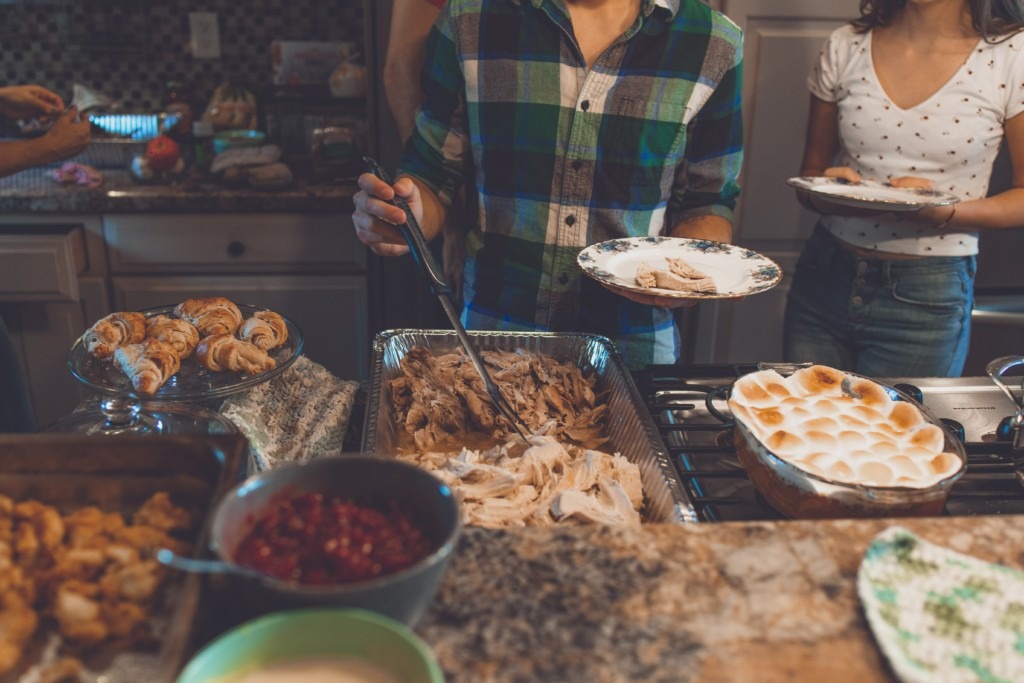 Pumpkin pie and turkey, Christmas lights and jingles, long shopping trips and family gatherings…it's the most wonderful time of the year! However, it can also be the most stressful. It seems as though the to-do list is never ending, errands take longer, and there's food…food EVERYWHERE! The holidays seem to be focused around food, and that food tends to be high in carbs. It may seem like a nightmare for blood sugars, but it doesn't have to be. Here are a few tips to navigate the holiday season in peace.
Come prepared with carb counts. Being prepared with carb counts in hand can reduce stress and save you a bunch of time. This will leave you more time to enjoy the festivities. Beyond Type 1 has some great pintables of popular holiday dishes with serving sizes and carb counts.
Keep balance. Practice eating balanced meals from day to day. That way, when parties and gatherings come around, you can make room for some "treats." Balanced meals include a serving of protein and starch, and half your plate should be filled with non-starchy veggies.
Don't skip meals. Sometimes we can get so excited about the festivities ahead we may want to skip breakfast and lunch to make room for more later. Try to stay on a regular meal schedule as much as you can. This will not only help regulate blood sugars: it will also reduce the urge to overeat later in the day.
Ask your endo. Check with your child's endocrinologist ahead of the holidays for advice on adjustments. Make sure that carb ratios and sensitivity factors are correct. During adolescence, these may change more frequently. You might want to discuss increasing basal rates if there is a lot of sitting after meals. It is also a good idea to check blood sugar more often during this time of the year.
Have healthy options available. If you are hosting your own holiday party, make sure that there are some low-carb dishes available. If you are heading out to someone else's house, you can contact the host beforehand to see what is on the menu. This could help you have a game plan prior to arriving. Bringing your own healthy dish is not only a kind gesture, but it will also allow for some balance to the foods that are likely to be served. Here is a simple veggie side dish from Taste of Home that is low on carbs but high on flavor.
Shredded Gingered Brussels Sprouts

Ingredients
1 pound fresh Brussels sprouts (about 5-1/2 cups)
1 tablespoon olive oil
1 small onion, finely chopped
1 tablespoon minced fresh gingerroot
1 garlic clove, mince
1/2 teaspoon salt
2 tablespoons water
1/4 teaspoon pepper
Directions
Trim Brussels sprouts. Cut sprouts lengthwise in half; cut crosswise into thin slices.
Place a large skillet over medium-high heat. Add Brussels sprouts; cook and stir until sprouts begin to brown lightly, 2-3 minutes. Add oil and toss to coat. Stir in onion, ginger, garlic and salt. Add water; reduce heat to medium and cook, covered, until vegetables are tender, 1-2 minutes. Stir in pepper.
Test Kitchen tips
Molasses-Sriracha variation: Add 1 Tbsp. molasses and 2 tsp. sriracha to the water and cook as directed.
Sesame-Ginger variation: Substitute toasted sesame oil for the olive oil and proceed as directed. Sprinkle 1 Tbsp. toasted sesame seeds over cooked sprouts before serving.
Cranberry-Pecan variation: Add 1/4 cup dried cranberries with the onion and ginger. Cook as directed; sprinkle with 2 Tbsp. chopped toasted pecans before serving.
Curry variation: Add 1 tsp. curry powder with the onion and ginger; cook as directed.
Nutrition Facts
3/4 cup: 56 calories, 2g fat (0 saturated fat), 0 cholesterol, 214mg sodium, 8g carbohydrate (2g sugars, 3g fiber), 2g protein.