Kudzu Kudos: The Palacio Family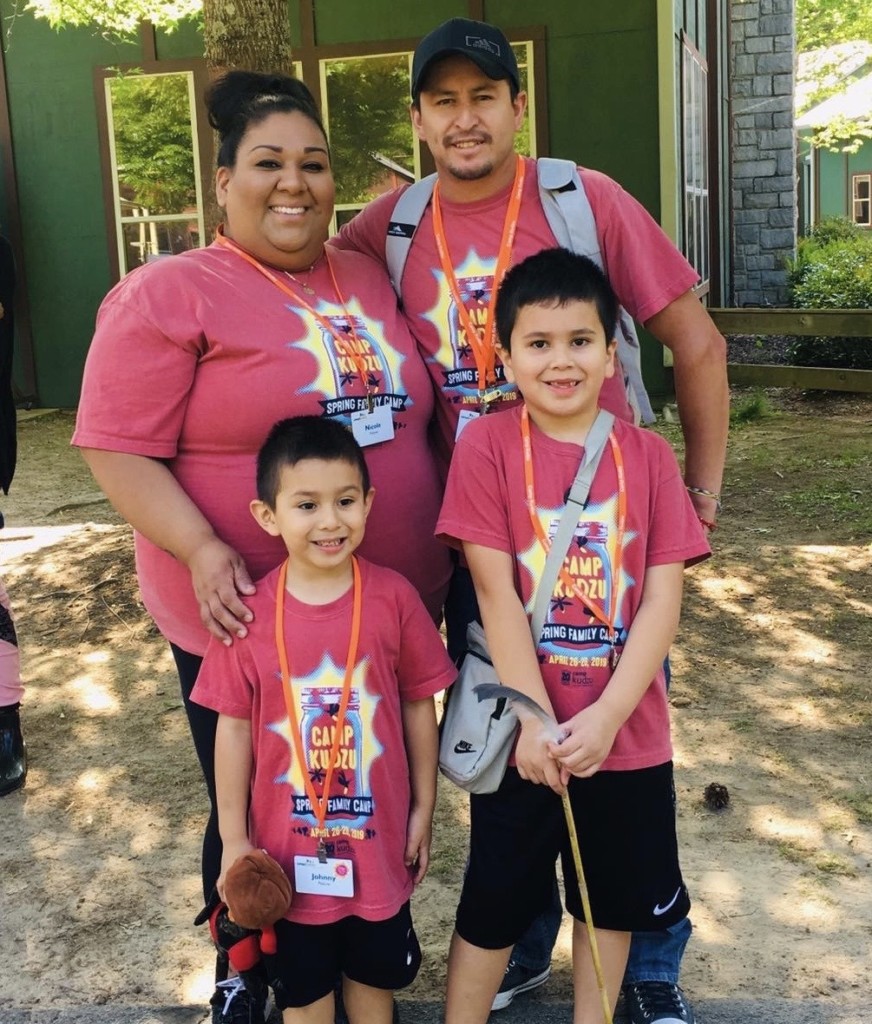 Camp Kudzu is all about family. Our community of campers form a caring, supportive family that continues to exist even after the session is over, and we happily welcome the family members of our campers into our lives, too.
Since the first time we joined Camp Kudzu, I knew in my heart that this is where we belonged.

Nicole Palacio
The Kudzu spirit goes beyond our individual campers and takes hold in their families, and the Palacio family is a perfect example of that. Since Andy was diagnosed with type 1 a couple of years ago, the entire family has been a fixture at camp events and volunteering opportunities, including Family Camp events.
"Since the first time we joined Camp Kudzu, I knew in my heart that this is where we belonged," said Nicole Palacio, Andy's mom. "They made us feel so welcomed and loved. Seeing the amazing volunteers made me want to give back in any way I could. As parents, it becomes quite difficult to manage work and caring for our type 1's. Whether help was needed at Camp or their local offices, I knew that one I could give back to Camp Kudzu like they help us."
After Andy's diagnosis, nurses and staff members at the hospital told the Palacio's about Camp Kudzu, and they decided to check it out and were immediately hooked.
"For the last two years, we have been fortunate to attend every family session," said Nicole. "With every session, something new and memorable always arises. Whether it's new joke from Kat or my little Andy trying out every bed in the cabin to see which one he'll take for the night, every session creates new memories I'll remember forever."
After enjoying Kudzu's life-changing camp sessions, Nicole started searching for a way to return the favor. Before long, an opportunity arose.
"I have always wanted to be a part of the Kudzu team," explained Nicole. "My heart knew there would be a way. As a busy parent, I wasn't sure how I could help, but I knew that an opportunity would come. Then, Whitney reached out to me for some help!"
As part of Kudzu's outreach efforts, Nicole was instrumental in translating the camp application materials into Spanish, removing a significant barrier that may have prevented some families from being able to successfully apply.
Camp Kudzu thanks Nicole for her help and the entire Palacio family for being such a vital part of the Kudzu community. For those who are interested in finding ways to help the Kudzu cause, Nicole offers some advice:
"If you're looking to give back, there are many ways. It can be volunteering at sessions, helping with office work, or finding ways to brainstorm new ideas. All you have to do is ask!"