T1D Representation Matters: Stacey McGill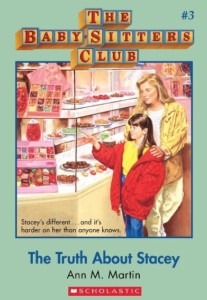 My 10-year-old daughter was watching the new The Baby-Sitters Club series on Netflix the other day when she yelled, "Mom, look! Stacey has diabetes!" The show is based on the beloved book series written by Ann M. Martin, whose first book was published in the 1980s. The series consists of 217 novels about the fictional group of friends from Stoneybrook, Connecticut who run a local babysitting service. The original four members are Kristy Thomas (founder and president), Mary Anne Spier (secretary), Claudia Kishi (vice-president), and Stacey McGill (treasurer). Each character has their own struggles, and the novels address issues like illness, moving, and divorce. Stacey moved to Stoneybrook from New York, loves fashion, excels in math (hence her being the treasurer), and has T1D.
My daughter has read a few of the books from the series but has moved on to books in the fantasy genre, like the Harry Potter series. She does enjoy watching the TV series, though. I remember reading some of the books myself while growing up, but many of the details have faded from my memory. It wasn't until I watched the episode "The Truth About Stacey" that I remembered there was a T1D connection. I don't have T1D myself, or I am sure that detail would have stuck. My daughter doesn't have T1D either, but through our connection with Camp Kudzu, she has learned so much about diabetes and was even inspired to conduct a class presentation about diabetes and camp to her class last year. She was stoked to see Stacey's character in the show.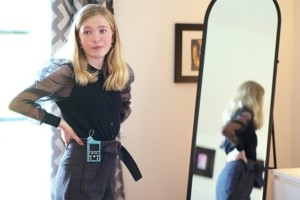 The author, Martin, has been quoted in interviews stating that she was inspired to include a main character with diabetes because two of her close friends had diabetes, one of which had some difficulty controlling her condition. Many girls with T1D growing up in the '80s and '90s have commented that reading about Stacey McGill gave them confidence and helped them embrace their diabetes. Stacey may have even been some girl's first "friend" with diabetes (real or not) which helped them feel less alone.
With the recent reboot of a Netflix series and an interest in the books from a new generation, I'm hoping that even more kids are inspired by Stacey's story. The show serves as an example of why T1D representation in media is important, so children like my daughter, who does not have T1D, will gain more understanding of the disease—and therefore compassion towards others or children like our campers who may only see others "just like them" during camp weeks.
-Contributed by Carrie Claiborne, RDN, LDN
Camp Kudzu Medical Coordinator