Our Team
Camp Kudzu's staff believes that every child deserves a chance to grow, learn and know how to have a healthy life. These are the people who work every day to educate, empower and inspire children living with type 1 diabetes:
Robert "Rob" Shaw serves as Camp Kudzu's Executive Director, leading its professional staff and working closely with the board on policy and planning, budgeting and finances, and on relationships with our friends, donors, and other nonprofits. Rob has a deep and longstanding appreciation for the needs of children living with diabetes. He has decades of relevant professional experience for leadership, development and believes that that camp is a force for good in young lives, and has great zeal for growing Camp Kudzu programs.
Prior to joining Camp Kudzu, Rob has worked with the American Heart Association, the Arthritis Foundation and most recently served as Vice President of Leadership Giving and Acting Chief Development Officer at the Parkinson's Foundation. Earlier in his nonprofit career, Rob was the Executive Director of the Georgia Chapter of JDRF. Rob's personal interests align tightly with Camp Kudzu's programs as he is an avid outdoorsman, loves camping and hiking, and enjoys farm life as well as competitive sports.
Just minutes after the Shreve family's station wagon arrived at Camp Meadowlea in Bridgeport, WV Kat's career path in camp began.  Since then, Kat has worked for Project Adventure as a facilitator and developed environmental education programs at Rock Eagle 4-H Center.  Additionally, in her 30 years in camp, Kat has directed the Athens YWCO Camp for Girls, Girl Scout Camp Meriwether, YMCA Camp Colman in the Seattle area, and both Girl Scouts camps in Virginia: Camp Pamunkey Ridge and Camp Kittamaqund.
As an active member of the American Camp Association (ACA), Kat serves as an Accreditation Visitor and Instructor Trainer.  During her tenure with ACA, Kat has served as the Education Director for ACA and has volunteered for several years with the Southeastern Region Board of Directors and on the LCOL of the Evergreen Region.
Kat has spoken at several youth professional gatherings from camp professionals to recreation professionals to educators.  She was on the writing team for two books, Creating Positive Youth Outcomes and Designing Quality Youth Program.
Kat graduated from the Recreation & Leisure Studies program at the University of Georgia with a B.S. in Education.  In 2007, Kat was honored as the University of Georgia College of Education Professional Alumni of the Year.  The ACA awarded Kat the National Service Award celebrating her work volunteering for both multiple ACA regions and on the national level. She is a current member of the ACA National Awards Committee. And serves on the Editorial Advisory Committee as both a frequent contributor and member of Camping Magazine. Most recently, she was inducted into the Pioneers in Camping, an honor society of camp professionals who have worked in the field for 30 years.
Kat has happily returned to the Camp Kudzu team as the Director of Programs.
Desirae August joins Camp Kudzu as the VP of Development. She brings over fourteen years of diverse nonprofit, fundraising, and event planning experience. As a devoted community leader, Desirae is passionate about empowering children and families.
Prior to joining Camp Kudzu, Desirae served as the Chief Development Officer at Buckhead Christian Ministry and managed fundraising events with the Girl Scouts of Greater Atlanta. As a volunteer, she served as the President and Event-Co-Chair of Twelve Days of Christmas, Inc. Atlanta Chapter. She earned a Master of Business Administration with an Executive Certificate in Public and Nonprofit Leadership from Brandman University and graduated with a Bachelor of Arts Degree in Communications with an emphasis in Public Relations from California State University Fullerton. Desirae is looking forward to growing Camp Kudzu's fundraising efforts and furthering the mission to educate, empower and inspire children and teens living with type 1 diabetes. Desirae and her husband, Troy, are the proud parents of Makayla and Elijah. She enjoys spending time outdoors with her family and friends.
A former volunteer and new staff member, Carrie Claiborne is looking forward to working closely with the other team members to continue Camp Kudzu's mission to educate, empower, and inspire children living with diabetes.
Most recently, Carrie was a clinical and outpatient dietitian at Emory Johns Creek Hospital. She is currently working on obtaining her certification in diabetes education.
Carrie received a Bachelor of Science in Dietetics and completed a Dietetics Internship through Life University located in Marietta, Georgia.
Mandy's previous positions have been with Camp Twin Lakes where she served as Partner Support and Hospital Programs Manager. Her background gives her full appreciation for the questions that families have who are new to diabetes and haven't had their children away from home since diagnosis.
Mandy is a Georgia native, with her a bachelor's degree in Nutrition from Georgia State University. She earned her master's degree in Child Development and Family Relations from East Carolina University. She has a passion for working with children and families and looks forward to serving the families of Camp Kudzu. Mandy and her family live in Atlanta with her husband, sons, and their two dogs. She enjoys the outdoors and hiking with her family.
Danielle came to us over a year ago starting as a program/ medical intern while finishing her undergraduate degree. She fell in love with Camp Kudzu and after her graduation from Georgia College & State University with a bachelor's degree in Exercise Science she joined our staff full time. She now serves as our Senior Development Coordinator assisting with donor relations, gift processing and, and special events.
Danielle's love of nonprofits and giving back started in college while she was a member of Zeta Tau Alpha. She enjoyed getting involved in planning events for their philanthropy, Bright Pink, Breast cancer education, and awareness. As well as participating in the campus-wide Children's Miracle Network Dance Marathon event.
Anna has been with Camp Kudzu for over 15 years as a camper and volunteer, in addition, comes to us with 4 years of nonprofit experience at JDRF and the American Diabetes Association. She graduated with Bachelor's degree in Community Health Education from Georgia College and State University.
As a person who has lived with type 1 diabetes for over 18 years, Anna is committed to the amazing work Camp Kudzu does teaching children with type 1 diabetes to feel supported and empowered as they grow through their personal life and diabetes care. She lives in Atlanta and loves camp and Clemson football!
Caroline came to us about 5 years ago as a volunteer after hearing about us over the years from her endocrinologist. Caroline fell in love with Camp Kudzu and volunteered at many year -long programs. Most recently, Caroline did an internship rotation with us before joining our staff full time.
Caroline earned a Bachelor of Science in Nutrition and Food Science with an Emphasis on Dietetics from Georgia Southern University. She completed her Dietetic Internship through Life University and will be taking her Registered Dietitian exam in the next couple months. Caroline is a Marietta native and loves the lake, goats and spending time with her friends.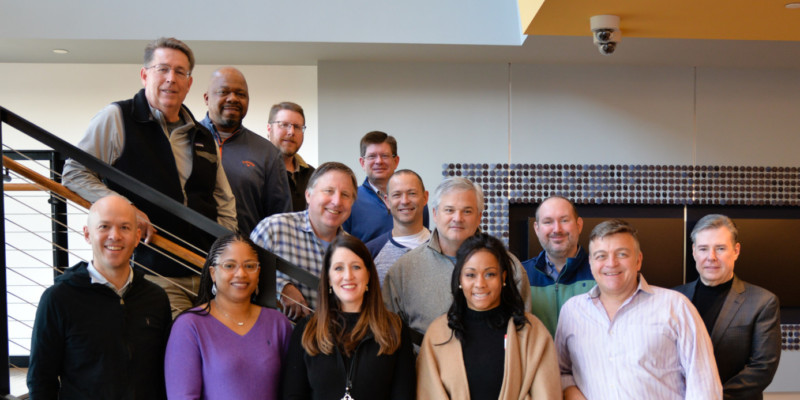 Camp Kudzu is privileged to have an outstanding and dedicated group of volunteers who generously donate their time and talents by serving on our Board of Directors. Our work would not be possible without their efforts.
CHAIRMAN OF THE BOARD
Andrew B. Muir M.D.
Emory Children's Center
Director of Pediatric Endocrinology
TREASURER & FINANCE CHAIR
M. Everett Peaden
Partner
Smith, Gambrell & Russell, LLP
SECRETARY
Brad Pugh
Human Resources Consultant
Russell Reynolds
Mark A. Bailey
Senior Account Executive
United Healthcare
Ann Brumbaugh
Attorney
Ann S. Brumbaugh, LLC
Tanicia C. Daley Jean-Pierre, MD
Pediatric Endocrinologist
Children's Healthcare of Atlanta
Sobenna A. George, MD
Pediatric Endocrinologist
Children's Healthcare of Atlanta
Meredith Guffy
Community Volunteer
Holly Hailey
Senior Paralegal
Blasing, Burch, Garrard and Ashley, P.C.
Eloise Lamons
Community Advocate
Stephanie Needle
Client Solutions Manager
Facebook
Mattew Newton MS, CRNA, APRN
Owner
Twin City Anesthesia
Trevor Pitt
Group Manager
The Whiting-Turner Contracting Co.
W. Scott Richards
Founder and Managing Partner
Business Partner Solutions
Tiffany Richburg
Senior Project Manager
Genuine Parts Company
Clint Smith
Director
Atlanta Magazine Custom Media
Jim Soggs
CEO/OWNER
Express Mile, LLC
Karen Wood
Community Volunteer
"Taste of Tucker" Co-Chair/Producer
Camp Kudzu Staff Leadership Team
Robert Shaw
Executive Director
Kathryn (Kat) Shreve
Associate Executive Director
Desirae August
VP of Development