Benefit Luncheon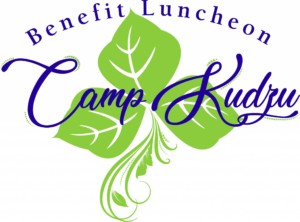 SAVE THE DATE FOR OUR 2020 LUNCHEON
March 17th
Cherokee Town and Country Club
The Camp Kudzu Benefit Luncheon is our annual fundraising event that brings together over 300 of Atlanta's most influential philanthropists and supports of the diabetes community.  The Benefit Luncheon is a unique way to raise awareness and funding to help educate, empower, and inspire children and teens living with type 1 diabetes.  The event centers around honoring our diabetes champions and highlighting camper stories and the impact Camp Kudzu makes in their lives.
Last year, we raised  $200,000 for Camp Kudzu at Cherokee Town and Country Club with over 300 supporters committed to our mission.  We honored Kathy Womack, who has played a crucial role in the success of Camp Kudzu through her tenure on the Board of Directors and has been a longtime driving force behind the success of the Benefit Luncheon.  In addition to honoring Kathy, we were excited to honor our "Alexandra Allen Light the Way Award" Ambassadors, Mindy Bartleson, Nicole Bernath, Julie Cortes, Erin Dever, Laura Gillespie, Caroline Graff, Brian Starks, and Zach Whigham.  All of which, have been Camp Kudzu campers, counselors, and now young adults that have continued their commitment and dedication to Camp Kudzu throughout the years.
Thank you to our sponsors!

For more information on partnerships or sponsorships, please contact:
Jessica Martinez, Director of Development
jmartienz@campkudzu.org
(404) 495-4853