Family Camp Volunteers
Our Family Camp is held twice a year, in spring and fall. It is a weekend-long overnight program where children with type 1 diabetes and their families attend camp together. Families can network with each other, enjoy traditional camp activities and spend time in special parent education sessions with healthcare professionals.
Volunteer staff are responsible for groups of campers for a few hours each day, doing camp activities.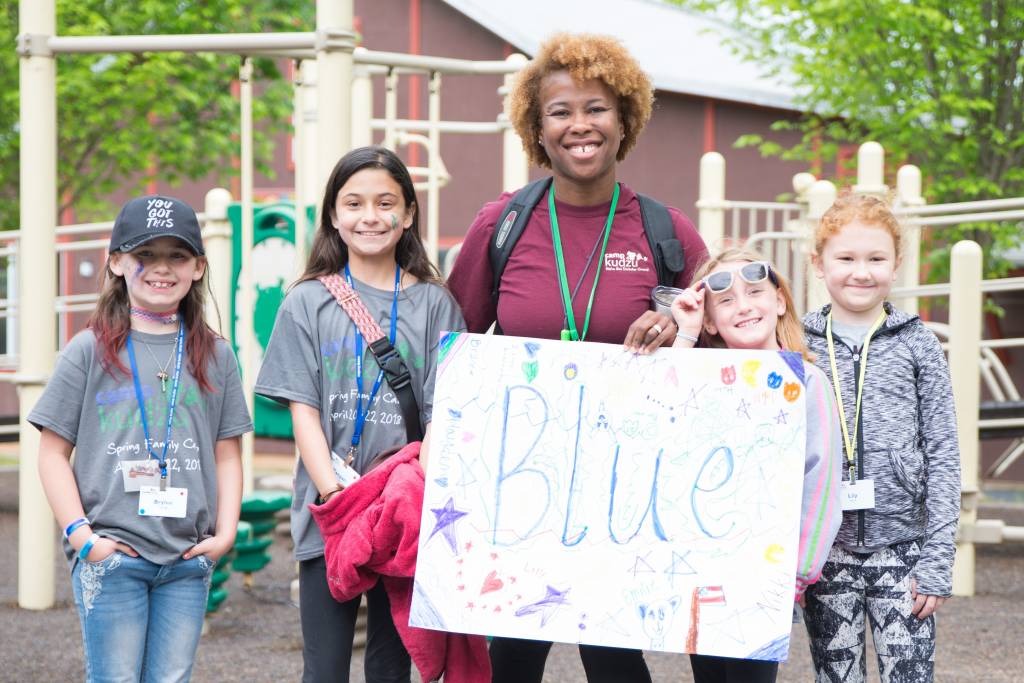 Volunteers are asked to stay the entire weekend and will reside in the staff living quarters.
CAMP COUNSELORS
Counselors are assigned to a group of 8-10 campers who they accompany to various activities throughout the week. They help the campers get to know each other, check blood sugar levels, carry backpacks with diabetes and camp supplies while making sure every camper in their care stays healthy and safe.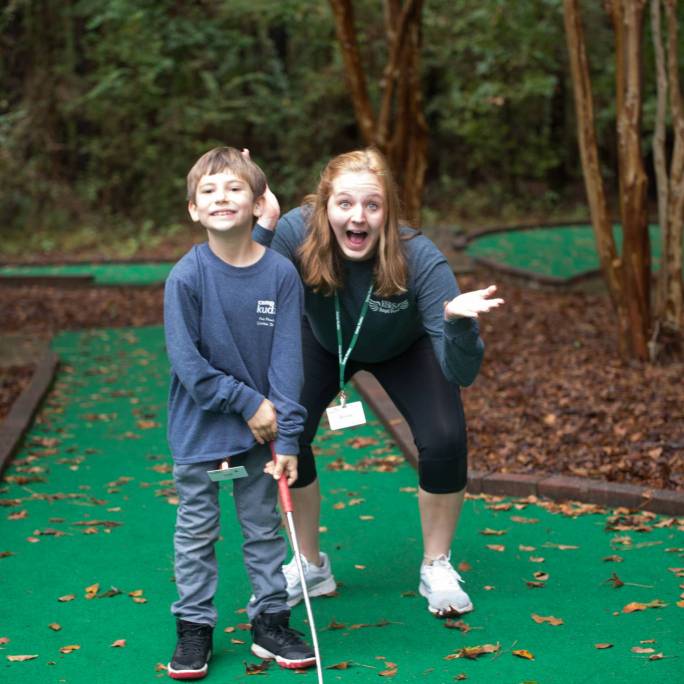 They also share their skills to enhance program offerings for the campers.  By helping with:
Arts & Crafts
Drama
Drumming
Fishing
Field Sports

 Gym Games
Puppetry
Canoeing
Tennis
Interested in volunteering as a Counselor, Activity Staff, Logistics or single day activities at camp Contact Anna Rambo at arambo@campkudzu.org or (404) 495-4862.
MEDICAL STAFF
Our valuable, caring medical staff bring their skills and healthy attitude to our staff community. An entire spectrum of healthcare professionals supports our camp programs. We rely on their expertise to manage an entire camp of children living with type 1 diabetes, but they can easily blend in with the day-to-day activities of camp such as tie-dying t-shirts, singing in the dining hall or zip lining. While any type of specialty is welcome, we especially seek the following positions:
Endocrinologists
Our camp endocrinologists supervise clinicians and advise on insulin adjustments each day. Endocrinologists at camp are expected to help clinicians with midnight rounds by taking call 2 to 3 nights per session. Even if you are only able to volunteer for 2 or 3 days, your help is greatly appreciated. This setting is very different than your typical clinic or office setting – Camp Kudzu focuses on promoting education in an exciting, camping environment.
Medical Lodge Nurses
The Medical Lodge at Camp Kudzu needs nurses (RN, NP, LPN's) of all specialties to help with general medical needs. Medical lodge nurses will provide non-insulin medications to all campers and will practice appropriate triage for injured or ill campers and staff.
Clinicians
We're always looking to add to our team of clinicians. Whether you're an LPN, RN, NP, PA, MD or DO, we have a place for you! Each clinician typically cares for 9 campers with type 1 diabetes. Our clinicians' main job is to ensure that insulin adjustments are made appropriately for food intake and high blood glucose levels while considering the campers' upcoming activities. Clinicians collaborate with campers on insulin doses and promote independence for campers at age-appropriate levels. To fill this role, you need a base knowledge of type 1 diabetes and insulin dosing.