Kudzu Color Wars
During summer camp, Color Wars is one of Camp Kudzu's most popular and fun evening programs! Campers are grouped into teams and harness their team spirit to complete a series of various field-day-like tasks and challenges. We are excited to share this camp favorite with our entire Camp Kudzu community!  
For the entire month of April, we will be bringing a bit of Camp Kudzu fun into your home with Kudzu Color Wars! (Don't worry there won't be any colored dust sprinkle in your living room!) We will have a ton of interactive activities for you to do to stay connected as a Camp Kudzu community this month. JOIN A TEAM TO GET IN ON THE FUN! Everyone is invited to participate!  
How to Participate
Pick the Team Color that you want to be a part of by clicking a link below:  

 
Create an Everyday Hero page  

 
Invite your friends and family to join too! 

 
 Check our Facebook and Instagram pages for updates and instructions on weekly challenges and prompts   
Complete the Challenge! You will have one week to compete the assigned challenge . 
We will share and acknowledge those who participate on our main social media page. Follow us on Facebook, Instagram and Tik Tok to see the Camp Kudzu Community thrive!   
Help your team raise money! The goal for each team is $5,000, and all donations are appreciated! All proceeds will go help Camp Kudzu stay strong and healthy through these uncertain times so we can continue to be your #KudzuHome for countless summers to come.This can be done by simply:  
Adding a link to your donation page on all your challenge posts with the phrase: "Help Fund-A-Camper!" 

 

Asking friends and family to donate!  

 

Supporting a friend by sharing their posts and fundraising page link.  

 
The team with the most money raised wins the Color Wars Challenge!   
We will keep you updated on how your team is doing with a Weekly Leaderboard!  
Don't want to fundraise? You can still participate in the scheduled events! We would love for you to share your Kudzu Spirit!   
Kudzu Color Wars Calendar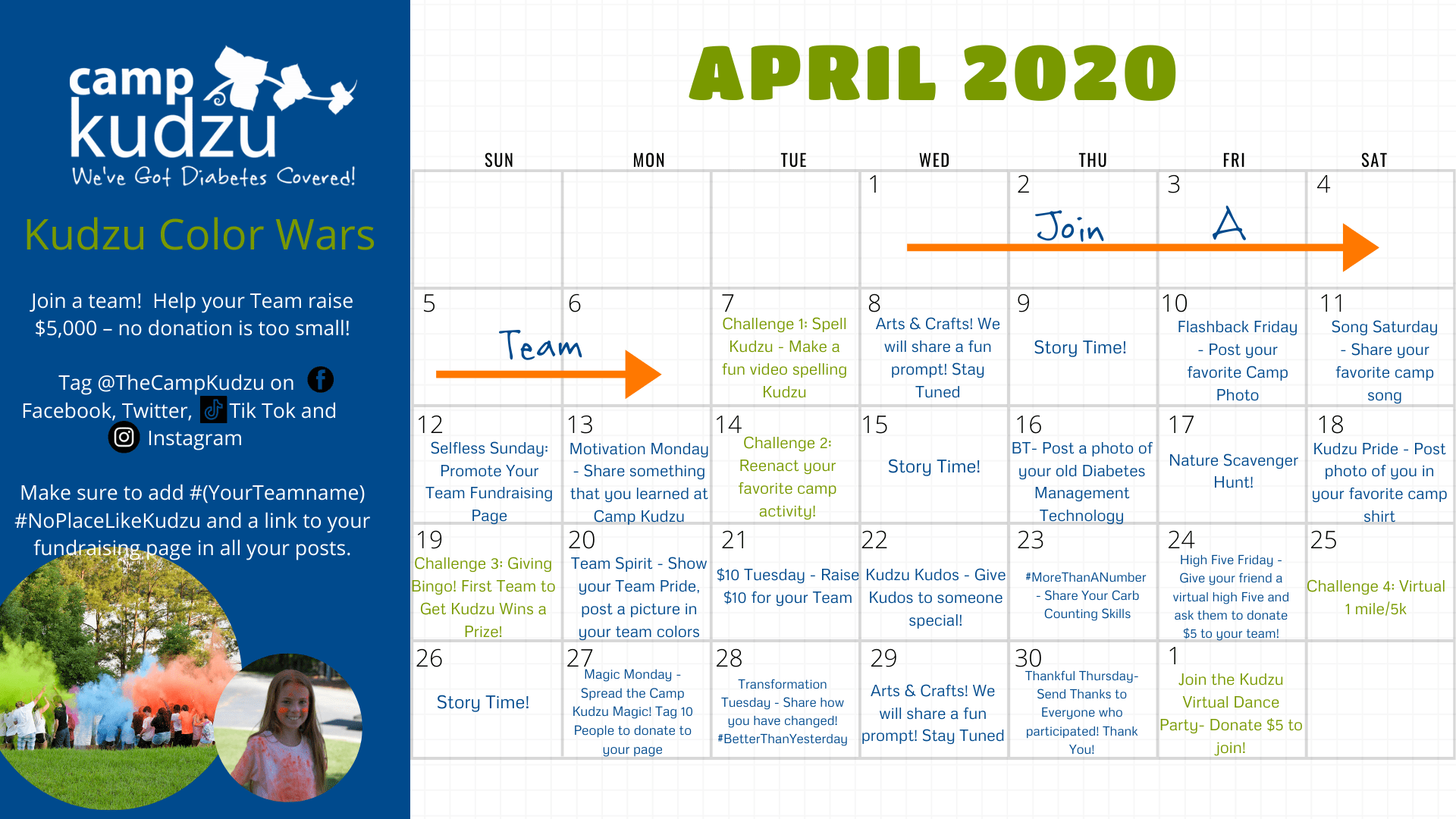 Download/Print Calendar
Download Giving Bingo Card