Your child will grow while he or she is at camp, in unexpected and wonderful ways.
Counselors and trained medical staff will look after your child day and night.
Camp provides all the meters, test strips, insulin, syringes and pens.
Doctors will review blood sugars every day.
Your child will have great camp menus and a variety of foods to choose from.
You'll have a lot of dirty clothes and towels when camp is over!
"Other parents have asked me why Amy is so independent with her diabetes management. I tell them it is all from Camp Kudzu. Amy has only been diagnosed for a year and a half and is so much more educated than the kids that have been diagnosed for years. I can't say enough good things about the camp – you have really made a difference in her life." – M. Larch
What will my child do at summer camp?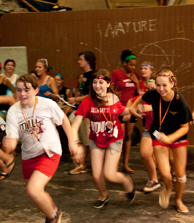 Activities
vary by cabin and age, and include swimming, rock wall climbing, horseback riding, arts and crafts, woodworking, and so much more!  We also have a "diabetes fact of the day," practice counting carbs and making nutrition choices, set individual and cabin goals, and have informal group discussions on topics that kids care about. Evening activities include a talent show, an adventure, and a camp music party!
Where is camp?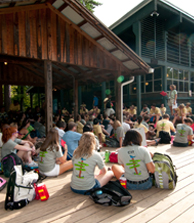 Camp Kudzu does not own any camp facilities and partners to hold its programs at Camp Twin Lakes, Camp Barney Medintz, and YMCA High Harbour at Lake Allatoona. Our programs, schedule, care and medical protocols are consistent from site to site for summer camp.
Camp Twin Lakes is located east of Atlanta, off I-20 near the town of Rutledge.
Camp Barney Medintz is located in the northeast corner of the state, near Cleveland, Georgia, at the foothills of the Appalachian mountains.
YMCA High Harbour at Lake Allatoona, where we host Sprouts Day Camp, is located north of Atlanta, in Cartersville.
How much does Camp Kudzu cost?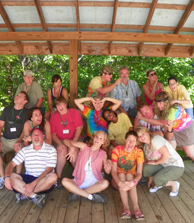 The true cost of all our programs greatly exceeds our fees.
While our true cost of overnight camp is almost $1,500 per camper, our 2017  fee is $800.
The generosity of families and other donors makes Camp Kudzu a reality.
Camp Kudzu is a nonprofit organization that does not receive funds from JDRF, the American Diabetes Association, or similar organizations
. We ask that each family consider making a donation above the camper fee. Your donation is tax deductible and we will send a receipt.
The 2017 subsidized fees by program are:
Overnight Summer Camp: $800.00 (including a $100 non-refundable deposit)
Sprouts Day Camp: $350.00 (including a $75.00 non-refundable deposit)
Family Camp: $400.00 (including a $75.00 non-refundable deposit)
Teen (Coed) Winter Retreat: $400 (including a $75.00 non-refundable deposit)
Scholarships are available for families and campers in all programs. Scholarship applications are included in all online and paper registration packets. Families are asked to pay the non-refundable deposit and submit that payment WITH camper registration and scholarship application paperwork.
Who is eligible to participate in Camp Kudzu's programs?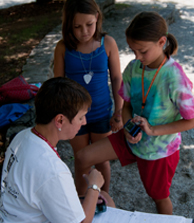 Camp Kudzu's programs are open to children and teens living with T1D and their families. Most programs serve both boys and girls. We strive to serve youth from all over the state of Georgia, and some priority is given to Georgia residents before spots become available to children and teens from other states.
Registering for Camp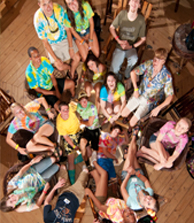 How do I register for summer camp?
You have two ways to register:
Register online. Note, online registration will require immediate payment of the deposit by debit/credit card.
Complete a paper registration packet  and return it via fax or U.S. Mail. Faxed applications must include deb/credit card payment information; mailed applications may include check or money order. Call our office at 404.250.1811 if you need a paper registration packet mailed to you.
When is the final payment due? 
It depends on date of registration and session. All payments must be made before the start of the program.
What is a scholarship?
We don't want money to be the reason your child or family cannot attend Camp Kudzu. We offer partial and full scholarships with a maximum value of the camp fee minus a $100.00 non-refundable deposit ($75 non-refundable deposit for Sprouts Day Camp).
How do I apply for a scholarship? 
Complete the scholarship application that is included in both our online and paper registration options. The form asks for your monthly net income, ages of children in the household, total number of persons in the household and any special considerations that you want us to know. For summer camp, please allow 30 days for us to review and process your scholarship application.
Medical Care at Camp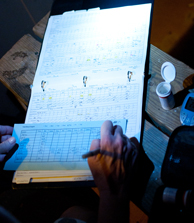 Do you check campers' blood sugars through the night?
We check campers' blood sugars beginning at midnight every night and continue checking until all campers' blood sugars are in target range. Once all campers' blood sugars are in range, the clinician signs out to the endocrinologist on call. Counselors are equipped to check blood sugars if a child or a counselor believes it is warranted throughout the night. Clinicians are nearby for assistance at any time of night.
What kind of medical care is available at camp?
The medical lodge is staffed with a supervising health care practitioner and several nurses for the assessment and treatment of minor bumps, scrapes and maladies. The nurses also monitor and administer daily medications for children and teens who have prescriptions to treat non-diabetes related conditions. The diabetes management team is supervised by an endocrinologist. We have at least one dozen trained health care practitioners devoted to diabetes management and education. This means that there is usually one "clinician" per one to two cabins. These clinicians make insulin dosage decisions in consultation with the campers and the endocrinologist. The diabetes team also includes insulin pump specialists who help with pump site changes and needs.
Getting ready for camp, Arrival, & Departure
We will send you information regarding arrival, departure, policies, packing lists and mail at camp in our Parent, Guardian and Camper Guides. These guides are provided to families three weeks before each session.  Here are some other forms you will need:
Miscellaneous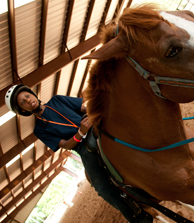 How do I get my child or family involved? 

A parent can call the Camp Kudzu office at 404.250.1811 and speak with our staff about getting involved in our programs, whether it be to help load/unload the truck or help at Check-In, help at the office to prepare for camp, or to attend a program.
Provide your email address and other contact information to join our email, E-news and other mailing lists.
Camp Kudzu depends on 350 volunteers to serve as mentors, counselors, activity leaders, health care providers and logistics crews during summer camp and weekend programs. Camp Kudzu also relies on dozens of volunteers throughout the year for assistance with clerical functions, preparation for camp sessions and the logistics of transporting supplies, equipment and medicines to camp. The organization also has volunteers who are involved in fundraising events.