Compass Society
Support from our Compass Society empowers Camp Kudzu to forward our mission of educating, inspiring, and empowering children and teens with type 1 diabetes (T1D). Funding not only supports our campers but also their families and people closest to them. We have learned through our 23 years of experience that Camp Kudzu provides meaningful learning opportunities and a strong community for children and teens living with this lifelong disease.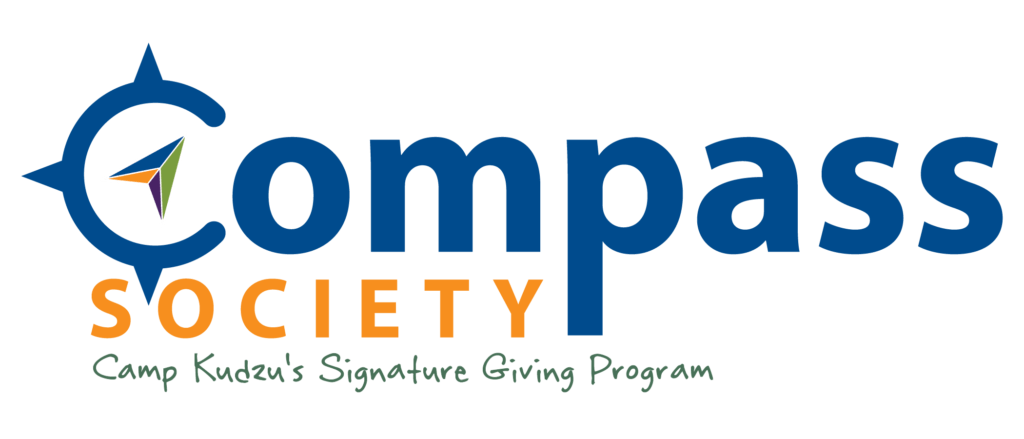 We hope to grow our mission and expand our impact by serving more families in need of life-changing Kudzu experiences. You can be a vital part of this growth by joining our Compass Society. With an annual gift of $1,000 or more, you will be an important member within the Kudzu community and unlock special benefits as a Compass Society member. Your donation provides children and teens the necessary diabetes management skills to thrive throughout their life. 
If you are interested in joining, please contact Rob Shaw at robert.shaw@campkudzu.org or 404-495-4851.
I'm proud to be a member of the Compass Society because I know that my gifts help children living with type 1 diabetes learn how to manage their disease. This will empower them to do whatever they set their minds to without diabetes getting in their way.

Karen Carlson, MD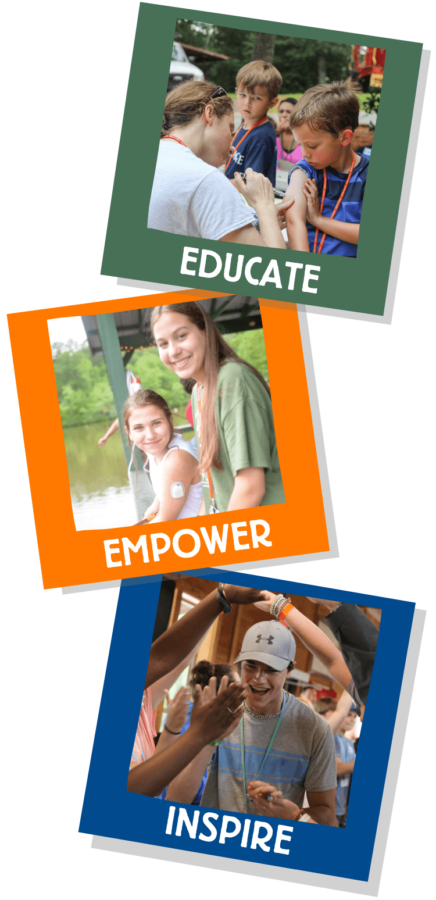 Empowerment $50,000+
Special recognition of leadership at Camp Kudzu signature events 

Invitation to join Special Reception & Research Update events

VIP invitation to Camp Kudzu's Signature Events 

Invitation to behind-the-scenes tours of our programs & facilities 

Invitation to Camp Kudzu Donor Appreciation Events 

Highlighted in Camp Kudzu's Annual Report
Trailblazer $25,000+
Special recognition of leadership at Camp Kudzu signature events 

Invitation to join Special Reception & Research Update events

VIP invitation to Camp Kudzu's Signature Events 

Invitation to behind-the-scenes tours of our programs & facilities 

Invitation to Camp Kudzu Donor Appreciation Events 

Highlighted in Camp Kudzu's Annual Report
Visionary $10,000- $24,999
Invitation to join Special Reception & Research Update events

VIP invitation to Camp Kudzu's Signature Events 

Invitation to behind-the scenes tours of our programs & facilities 

Invitation to Camp Kudzu Donor Appreciation Events 

Highlighted in Camp Kudzu's Annual Report
Leader $5,000- $9,999
VIP invitation to Camp Kudzu's Signature Events 

Invitation to behind-the-scenes tours of our programs & facilities 

Invitation to Camp Kudzu Donor Appreciation Events 

Highlighted in Camp Kudzu's Annual Report
Sustainer $2,500- $4,999
Invitation to Camp Kudzu Donor Appreciation Events 

Highlighted in Camp Kudzu's Annual Report
Compass Society Members
We thank the following Compass Society members for their generous support of Camp Kudzu
Empowerment •

$50,000+

Dr. and Mrs. Wilson P. Andrews, Jr.

Dr. Grant Carlson and Dr. Karen Carlson

Mr. and Mrs. Frank Lamons

Mr. and Mrs. Art Wood

Mr. and Mrs. William C. Zint III
TRAILBLAZER
•

$25,000+

Dr. and Mrs. William Allen

Mr. and Mrs. Pat Brumbaugh

Mr. and Mrs. Warren Carson

Ms. Liz Guttong

Mr. and Mrs. Julian Hailey

Mr. and Mrs. Todd Klumok

Mr. and Mrs. Joel McElhannon

Mr. and Mrs. Mark Needle

Mr. and Mrs. Alan Pinsker

Mr. and Mrs. Steven L. Raber

Dr. Andrew B. Muir and Mrs. Bess Schoen

Mrs. Karen Schultz and Family

Mr. and Mrs. Brian Studdard

Mr. and Mrs. Jack Womack
VISIONARY
•

$10,000 – $24,999

Mr. and Mrs.  Richard Bartolanzo

Mr. and Mrs. John Ecuyer

Mr. and Mrs. David Evans

Collin and Katherine Hughes

Mr. and Mrs. Matthew Newton

Mr. and Mrs. Larren Odom

Mr. and Mrs. M. Everett Peaden

Mr. and Mrs. Trevor Pitt

Dr. Lawrence Rowley and Dr. Avril Beckford Rowley

Mr. Robert G. Shaw

Mr. and Mrs. James Soggs
LEADER
•

$5,000 – $9,999

Mr. and Mrs. David N. Bennett

Mr. and Mrs. John Brown

Ms. Cristina L. McNulty

Dr. and Mrs. Quentin Van Meter

Mr. and Mrs. Sean Pruett

Mr. and Mrs. Joshua Rubin

Mr. and Mrs. Brad Pugh

Mr. and Mrs. Robert C. Smith