Enrollment Information
2021 Updated Fee Structure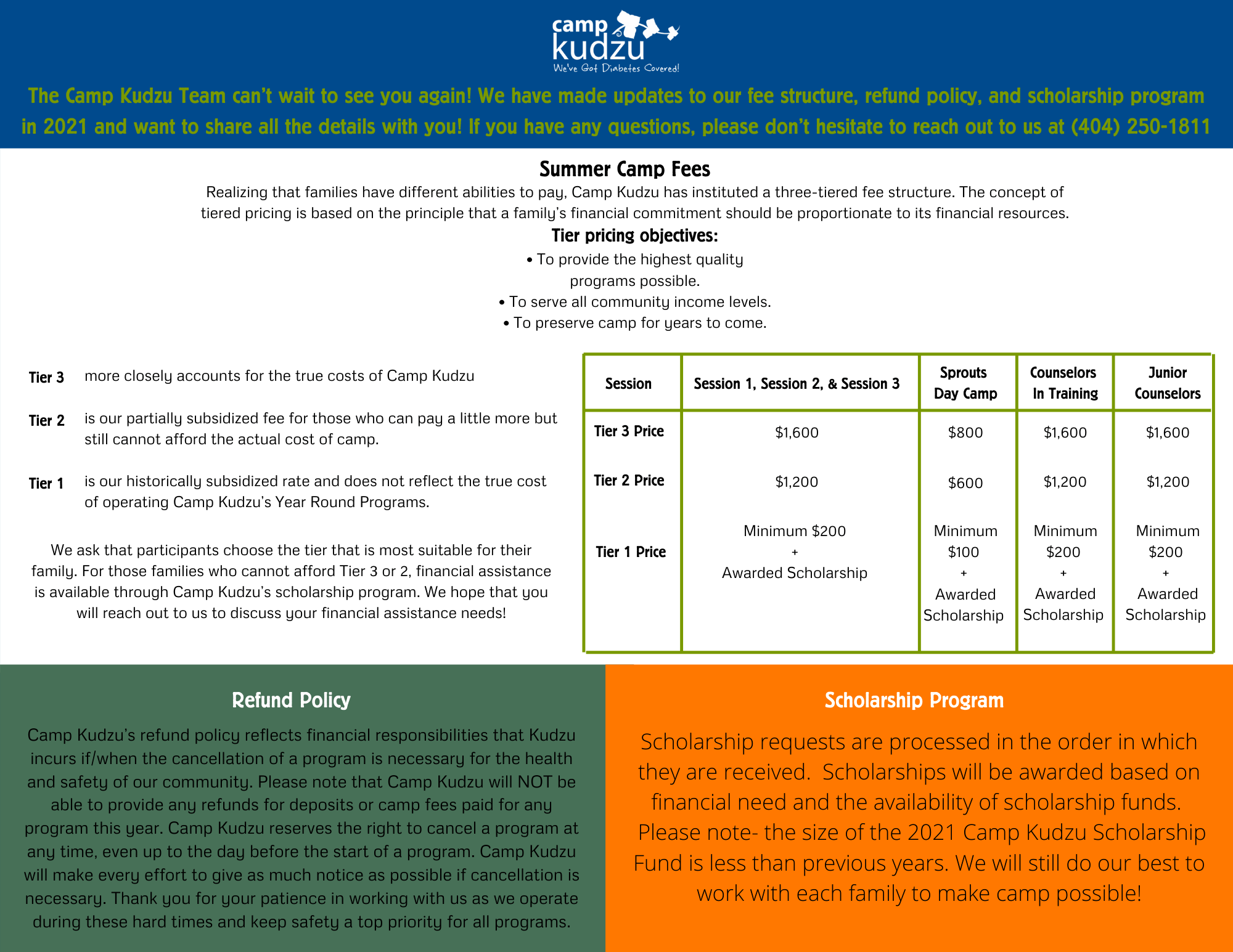 Welcome to the Camp Kudzu registration page! To register for a  program or event, please click the Register Now button below. For more information on programs and events, please see the Q&A section below.
If you have questions about the online registration process, please contact Mandy Conroy at mconroy@campkudzu.org or 404-250-1811.
Sign Up Now
There are two ways to enroll:
Enroll Now: Note that online applications will require payment information for the camp session's deposit by debit or credit card. To access the online application please click here.
Enroll by Mail or Fax: Complete a paper application form and return it via fax or U.S. Mail. Faxed applications must include debit or credit card payment information. Mailed applications may include a check or money order. Call our office at (404) 250-1811 if you need a paper application mailed to you.
The final camp payment due date depends on the date of enrollment and camp session. All payments must be made before the start of the program.
Application process
Step 1: Create an account or sign into your previous account (online only)
Step 2: Complete an online application or paper application (*Note: you will receive an application completion email once your application is complete)
Step 3: Have a licensed health care professional in your child's endocrinologist's office complete and fax the Camp Kudzu Health Form
Step 4: Once your child has been accepted into a session you will receive an acceptance email
Step 5: Three to four weeks before the session your child is enrolled in you will receive the Camp Guide with more specifics on that session of camp (*Note: for Summer Camp, Sprouts, & Teen Retreat you will need to fill out the Blood Glucose Log prior to camp)
WAIT LISTS
Admission from wait lists depends on space availability by gender, age, session and date of diagnosis. We have cancellations throughout the season and the quickest way to have your child moved off the waitlist is to make sure his/her application is completed in our system and ready to go. You will receive an email from Camp Kudzu confirming your waitlist status. Please note, campers on a wait list are not required to pay the deposit. Should a spot become available, the deposit will be required once the camper is accepted into a session.
QUESTIONS
If you need assistance with an enrollment issue or want more information about a camp program, please contact us at (404) 250-1811 or registration@campkudzu.org.