Preparing for 2021…and Beyond!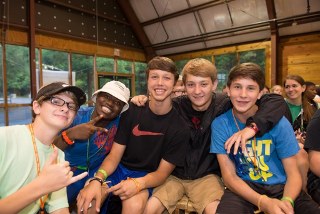 When we physically gathered 180 teens and staff during our Teen Retreat Program at Camp Twin Lakes in January 2020, we had no idea what would roll around in mid-March. The sound of the needle being ripped off the record, mid-song, impacted our community significantly. Our summer season evolved into virtual cabin meet-ups at Camp KudZoom, with Scott and Shawn singing with us from miles away and evenings filled with virtual games, meet-ups, and new memories!
In keeping with the music metaphor, when we pushed pause on our in-person events and programs, that scratchy, spine-tingling noise reverberated through Camp Kudzu. Lost revenue from program fees and special events—along with reductions in grant and foundation giving—negatively impacted Camp Kudzu's financial stability. You can see more information on our Annual Report.
The Camp Kudzu Leadership and Board of Directors worked together to navigate this rocky time, which called for many tough decisions to be made. The Kudzu staff structure was reorganized, resulting in fewer employees. The remaining staff has taken a reduction in salary and designated periods of unpaid furlough. While these decisions were not easy, they were necessary to maintain the stability of Camp Kudzu's future.
We don't know for certain what the upcoming program year, including the summer camp weeks, will look like in 2021. We will, with the help of our medical professionals, follow the safest advice regarding being together. If that means continuing to social distance, wear masks, check temperatures, structure programs with small groups of campers, or even require vaccinations, we will continue to take the necessary precautions.
We agree that not knowing "for sure" is unsettling for all of us. Many of us have shared this feeling over the past 9 months. As human beings we want to know the end with certainty…after all, we watch a movie until the credits roll and cheer the Braves on until the last three outs are recorded. However, managing and living with diabetes has primed us for a lack of certainty…we can eat the exact same thing or run the same distance as we did yesterday and get an entirely different BG outcome. The past months have not been easy, and we will likely still have some rough times ahead.
We have, in pencil, a calendar filled with Plan A through Plan QQ. To enact these plans, we need to change how we approach registration and program fees for our year-round programs. Camp Kudzu is going to ask participants to pay a bigger share of the cost of programs. Our scholarship awards will be limited and awarded differently than in years past. Camp Kudzu's refund policy will reflect cancellation penalties to participants that better reflect the true impact of cancellations on Camp Kudzu.
Until there's a cure, there's Camp Kudzu. Each of these steps is being taken so that Camp Kudzu can continue to be there with you for years to come.
-Kat Shreve
Associate Executive Director