Food For Thought Culinary Program
May 18, 2019 @ 9:00 am

-

1:00 pm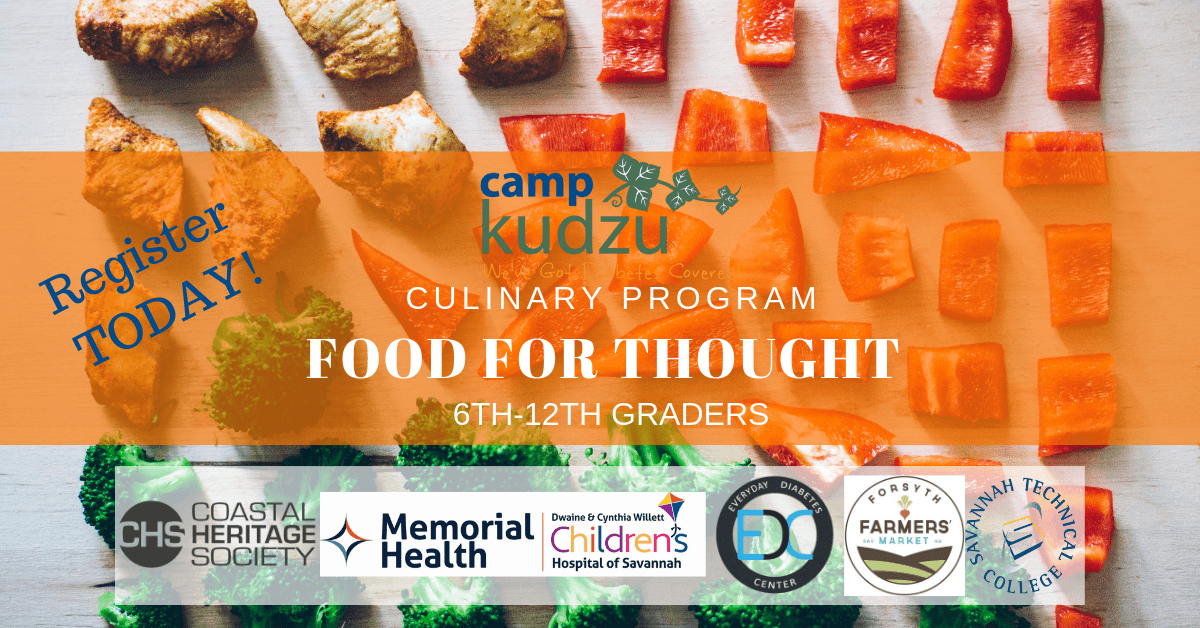 The Camp Kudzu Food for Thought Program is an opportunity for children, 4th-12th grade, to build confidence and strengthen their relationship with food in a healthy way.
The day will include a hands-on, low-carb snack challenge where children will work in teams to "shop" for their ingredients, work together to make a tasty recipe and understand how to count carbs and calculate their respective insulin dose.  Kids will participate in a "mock" dining experience where they will work in teams to estimate carb content of foods that are served to them just like in a restaurant or at a friend's house for a sleepover. Practicing the estimation of carb counts based on identifying ingredients will boost their confidence in real-world settings.
Lastly, participants will partake in a food demonstration with the Charlie Cart Project which integrates the educational program with a mobile kitchen to deliver hands-on nutrition education. Parent education sessions will be offered during child activity time. Plan to have one adult attend! 
You are invited to pack a picnic lunch and stick around for socializing with new friends. Medical volunteers will be on-site to help with any diabetes management needs during the program. Please have your camper bring all diabetes supplies they might need–meter, strips, insulin, etc. 
The Food for Thought Program includes Registered Dietitians from Savannah's Children's Hospital, Child Life Specialists and Certified Diabetes Educators from Memorial Hospital, as well as personal chefs and local food providers. 
Thank You to our partners for helping make this happen!