FAQs
HOW MUCH DOES CAMP KUDZU COST?
The true cost of all our programs greatly exceeds our fees. While our true cost of overnight summer camp is more than $3,200 per camper, our 2021 fee is incorporated into our Tiered Pricing Chart.
We ask that each family consider making a donation above the camper fee. Your donation is tax-deductible. We rely on the generosity of families and other donors to make Camp Kudzu available to children of all socio-economic backgrounds.
Scholarships are available for families and campers in all our programs, including our summer camp programs. Scholarship applications are included in all online and paper application packets. Families are asked to pay the non-refundable deposit and submit that payment WITH camper and scholarship application paperwork. (Returning campers are eligible for a scholarship each year)
WHO CAN ATTEND SUMMER CAMP?
Summer Camp is open to all youth between the ages of 8-16 and we strive to serve youth from all over Georgia. Although some priority is given to Georgia residents, registration is also open to out of state children and teens.
We do offer Sprouts, a week-long day camp, for youth between the ages of 5-8 each summer.
NEED TRANSPORTATION?
Please email Mandy Conroy Camp Community Coordinator, at mconroy@campkudzu.org. By sharing your desire/need for transportation, we can make an informed decision about pick-up and drop-off points for campers.
IS MY CHILD READY TO ATTEND CAMP?
Camp is an incubator for "life experience with training wheels." Our camp staff is dedicated to helping our youth embrace their independence. While the schedule says at camp we teach dance or arts and crafts or canoeing, we are really teaching self-reliance and resilience – coping skills for your child!
Reassure yourself that, as a parent, you've done your job. All the advice, coaching, caring and goodwill you've given your child over the years has taken hold. Trust the job you have done. Let them try out their wings, even if it means they must flap into the wind occasionally!
DO YOU CHECK BLOOD SUGARS THROUGH THE NIGHT?
We check campers' blood sugars beginning at midnight every night and continue checking and treating per Camp Kudzu protocol until all campers' blood sugars are in target range. Once all campers' blood sugars are in range, the clinician signs out to the endocrinologist on call. Counselors are equipped to check blood sugars if a child or a counselor believes it is warranted throughout the night. Clinicians are nearby for assistance at any time of night.
WHAT KIND OF MEDICAL CARE IS AVAILABLE AT OVERNIGHT OR SUMMER CAMP?
The Medical Lodge is staffed with a supervising health care practitioner and several nurses for the assessment and treatment of minor bumps, scrapes, and bruises. The nurses also monitor and administer daily medications for children and teens who have prescriptions to treat conditions unrelated to diabetes. The diabetes management team is supervised by an endocrinologist. We have at least a dozen trained healthcare practitioners devoted to diabetes management and education. This means that there is usually one clinician for every 1-2 cabins. These clinicians make insulin dosage decisions in consultation with the campers and the endocrinologist. The diabetes team also includes insulin pump specialists who help with pump site changes and needs.
WHAT CAN MY FAMILY EXPECT FROM CAMP?
Grow while they are at camp, in unexpected and wonderful ways.
Be cared for by counselors and trained medical staff during their entire stay at camp.
Camp will provide meters, test strips, most types of insulin, syringes, and pens.
An endocrinologist will review blood sugars every day.
You'll have a tired camper on your hands at the end of the week!
WHAT ARE THE SUMMER CAMP'S GOALS?
By the end of camp, campers should:
Be able to establish positive patterns for living with diabetes
Know how to build friendships to create a social support network
Have conversations or take part in activities with positive role models who are living with type 1 diabetes.
Attain skills for diabetes self-management.
WHAT ACTIVITIES ARE THERE AT CAMP?
At camp, your child will meet campers who have had diabetes for years and as well as many who are newly diagnosed. While many campers learn new skills, there is no pressure to do or try something they haven't done before, like give yourself a shot. On the other hand, camp is the perfect place for your child to try something they've always wanted to try but haven't had time or guidance for anywhere else.
Campers have four activity periods each day. Some are assigned to the entire cabin, and some are designed to be the camper's choice. Activity leaders are trained and orientated to the skill area they lead from lifeguard skills for our waterfront staff to archery skills for our target sports to belaying techniques for our ropes course staff.
Each camp facility offers its own set of activities. Please note that campers may not get to do all of the activities offered at their camp facility. Some activities are site-specific and have age restrictions due to industry standards and manufacturer recommendation.
YMCA; High Harbour;  Lake Allatoona
Team Sports
Dance
Archery
Nature Study
Arts & Crafts
Waterskiing/Tubing

 Challenge course
Kayaking/Canoeing
Swimming
Drama
Wakeboarding
Camp Twin Lakes
Ropes Course

Climbing Wall

Giants Swing

Group Initiatives

Group Games

Archery

Zip Line

Outdoor Living Skills

Paddle Boats

Paddle Boards

Fishing

Canoeing/Kayaks

Pool

Sports

Biking

Nature Hike

Horseback Riding

Nature Arts and Crafts

Dance/Yoga

Drumming/Music

Improv/Drama

Farm Program
Camp High Meadows
Animal Care
Archery
Arts and Crafts
Dance
Indian Lore
Nature

Pioneering
Pony Rides
Sports
Swimming
Traditions
Woodworking
Camp Barney Medintz
Archery
Arts and Crafts
Basketball and court sports
The Blob
Canoeing
Climbing wall
Dance
Drumming

Fishing
High ropes course
Iceberg
Zipline
Paddleboard
Cooking
Tye Dye
ARE THERE ACTIVITIES AT NIGHT?
Each magical day at Camp Kudzu culminates in an exhilarating Evening Program where campers can enjoy celebrations and bonding with friends. Camp Kudzu's evening programs are specifically designed to ensure that campers of all ages are engaged and having fun.   From special performances by campers and staff to late night swims to music parties to CIT inspired and led scavenger hunts, we squeeze the last couple of drops of daylight each day.
At times, the younger cabins and older cabins are split into two different groups during the after-dinner time… and, on other nights it is one big group.  Understanding that 1/4 of that activity hours at camp are in the evening, there's a new and engaging activity every night.
Evening programs provide that exhilarating moment for each camper to dwell on, relive, and cling to as they lay down to sleep at night.  They provide the perfect ending to each and every day at Camp Kudzu.
While the daily camp schedule varies depending on our host site, evening program typically starts around 7:30 pm and ends at 9:00 pm with a snack and wrap of the day.  Our younger campers head back to the cabin to get ready for bed and our teen campers can head to Teen Hangout with their counselors.
WHAT SHOULD MY CHILD BRING TO CAMP?
You WON'T need to pack your child's meter, test strips or insulin, though you will need to pack pump infusion sets and reservoirs if your child uses an insulin pump. You don't want to pack any fancy clothes or electronics, cell phones or "screens" of any kind. Your child should bring only comfortable clothing that can stand heat, dust, and paint.
We'll send you a packing list and lots of important information a few weeks before your child's camp session as part of the Camp Guide.
Most importantly, pack light! There's not a whole lot of room in the cabins.
WHAT IS YOUR CELL PHONE POLICY FOR MEDICAL PURPOSES?
WHAT IF MY QUESTION ISN'T ANSWERED HERE?
If you have any questions that are not answered on this page, please contact us at (404) 250-1811 or info@campkudzu.org.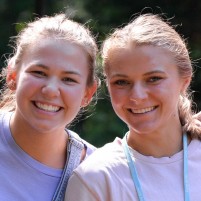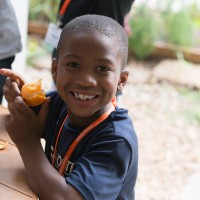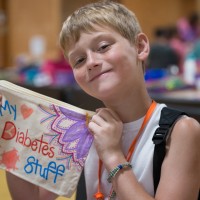 My daughter was diagnosed in January 2009 and we are still adjusting to the new world of diabetes. Thank you from the bottom of my heart. You have no idea how much she needed this camp, not just because of the diabetes, but she needed a week just to be a kid and have fun. Camp Kudzu delivered on the fun and education.

Other parents have asked me why Amy is so independent with her diabetes management. I tell them it is all from Camp Kudzu. Amy has only been diagnosed for a year and a half and is so much more educated than the kids that have been diagnosed for years. I can't say enough good things about the camp-you have really made a difference in her life. 

M. Larch (2011)