There are options!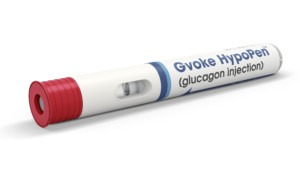 Earlier last month the FDA approved the Gvoke HypoPen from Xeris Pharmaceuticals. Gvoke HypoPen is a liquid-stable form of glucagon that can be stored at room temperature and needs no mixing before administrating. It is auto-injected when pressed against the body, much like an EpiPen treatment. The FDA also approved the Gvoke PFS, a pre-filled syringe contains the same liquid-stable formulas the HypoPen. Both of these treatments will be available in two different doses: 0.5 mg/0.1 mL dose for pediatric patients and 1 mg/0.2 mL dose for adolescents and adults.
"This milestone is a positive step forward for the diabetes community as the first pre-mixed, pre-filled, and pre-measured liquid glucagon to effectively treat severe hypoglycemia in both adults and children with diabetes," said Paul R. Edick, Chairman and Chief Executive Officer of Xeris Pharmaceuticals. "We are actively preparing to introduce Gvoke in two different administration options to accommodate the community's preferences starting with our pre-filled syringe in 4-6 weeks and the auto-injector in 2020."
This is the second new emergency glucagon rescue treatment for severe hypoglycemia that has hit the market this year. In July, the FDA approved the first ever non-injectable form of glucagon, BAQSIMI from Eli Lilly. BAQSIMI is a single used powder form of glucagon that is administered into the nose. Since BAQSIMI does not need to be inhale it can be used to treat severe hypoglycemia in a person who is unconscious. Of course, Eli Lilly still has Glucagon injection kits available. GlucaGen HypoKit injection by Novo Nordisk is also available.
Contributed by:
Carrie Claiborne
Medical Coordinator